Dental implants are a safe tooth replacement solution that will last a long time. General dental implants have a very natural look and feel. For the 49 percent of adult Americans who have suffered the loss of a tooth or undergone a dental extraction and have tried another solution like dentures or dental bridges without success, they can be the answer to your prayers. Dental implants require no more maintenance than your regular teeth and are secure in your mouth. They will restore your ability to eat, speak, and smile with confidence. The dental implants that Fairfax Family Dental provides are considered one of the most advanced tooth replacement system ever devised.
What are Dental Implants?
Dental implants are the closest you can get to healthy, natural teeth. Modern dental implants have been used successfully for over 30 years. They are the strongest devices available to support replacement teeth. A dental implant is a titanium post (like a tooth root) that is surgically positioned into the jawbone beneath the gum line that allows your dentist to mount replacement teeth or a bridge into that area. An implant doesn't come loose like a denture can. It is a high-tech way to save a tooth and, unlike a bridge, does not rely on nearby natural teeth for support.
Who is a Good Candidate for Dental Implants?
People who maintain good oral health but have lost a tooth are good candidates for dental implants in Fairfax, Vienna, Burke, or any other city in Northern Virginia. Your gums must be healthy and there must be enough bone in the jaw to support the implanted root. Schedule a FREE consultation Monday through Friday 8-5 with our dentist to verify that you are a good candidate for a dental implant.
Dental implants can help restore missing teeth without the need for dentures.
Set up your appointment at Fairfax Family Dental Care today! We offer Free Consultations Monday – Friday, 8-5 for New Patients!
What Are Dental Implants Used For?
Replacing a tooth or teeth without affecting the surrounding teeth
Improving your ability to eat
Improving your speech, no more worries of slurred speech or mumbling
Supporting a denture
Supporting a dental bridge
Eliminates the need for a removable partial denture
What Are the Advantages of Dental Implants?
Improved oral health
Dental implants don't require reducing other teeth, as a tooth-supported bridge does. Because nearby teeth are not altered to support the implant, more of your own teeth are left intact, improving long-term oral health. Individual dental implants also allow easier access between teeth, improving oral hygiene.
They prevent premature aging by slowing the shrinking of bone and gum tissue from the area surrounding the missing tooth.
They will never require a root canal because dental implants do not develop decay. This can also limit possible future tooth pain.
Improved comfort
Since dental implants are a part of you, implants eliminate the discomfort of removable dentures.
Dental implants do not require adhesives. You brush, floss and receive regular hygiene checkups just as you would with your natural teeth.
Durability
Dental implants are the most advanced tooth replacement system available. With good care, many implants last a lifetime.
What is the Dental Implant Procedure?
SURGICAL PHASE (IN OUR OFFICE)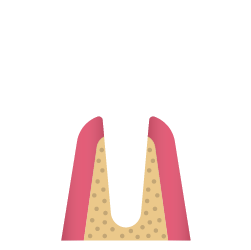 The area is for the procedure is numbed, so that there is no pain during the dental surgery. The gum is gently folded back and prepared for the implant to be placed in.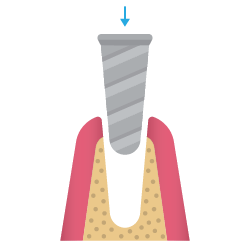 The tooth root implant, which is a small post made of titanium, is placed into the bone socket of the missing tooth.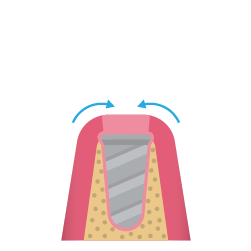 A temporary cap is placed on the dental implant and the gum tissue is repositioned. As the jawbone area heals, it grows around the implanted metal post, anchoring it securely in the jaw. The implant is left to heal, this typically will take 3-6 months. This will allow the bone to attach to the implant, creating a secure anchor
RESTORATIVE PHASE (IN OUR OFFICE)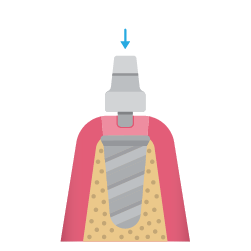 After the dental implant has had a chance to attach to the bone tissue, the temporary cap is removed from the anchor and a post, called an abutment, is attached to the post to securely hold the new tooth to the anchor.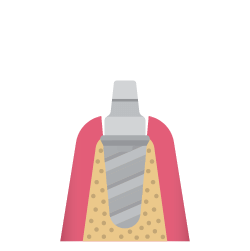 Your implant is now ready for your new tooth. To make the new tooth or teeth, our dentist will make an impression of your teeth, and create a model of your bite. The appropriate restoration is made from this impression (either a crown, bridge or overdenture).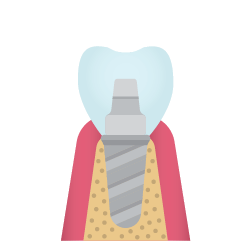 Your dentist attaches the new restoration to the abutment and your smile is good as new!
Dental implants can help restore your smile and provide long-lasting tooth replacement.
Considering a Dental Implant in Fairfax, VA?
If you are thinking about getting a dental implant in Fairfax, Vienna, Burke, or any other city in Northern Virginia, contact us for a FREE EVALUATION appointment. Our dentists will examine you to determine whether you are a good candidate for dental implant surgery and will provide you with further information and a game plan to help you make your decision. Emergency appointments available outside of regular office hours.